ABOUT THE RBSPb WORKSHOP
2008 Meeting & Logistics Site:...UCLA Site

Meeting Philosophy: The "Learning" Meeting.
Unlike formal meetings (such as AGU), the RBSPb workshop promotes an informal interaction to foster learning among the participants. Questions and discussion, and the free flow of ideas, are strongly encouraged.

Meeting Format
To support the meeting philosophy, speakers are given a choice of the following time slots:
...A...20-Minute Talk:...Formal talk, with questions at the end.
...B...30-Minute Talk:...Informal talk, interrupted by any relevant question.
...C...50-Minute Talk:...Informal talk, interrupted by any question at all.
Note that slots B and C might result in the speaker not completing all the prepared slides; that's OK! In fact, slot C could result in a complete digression (and possible informal/tutorial presentation by another participant) in the middle of your talk.



SINCE THE MEETING...
EOS Article
Our Meeting Report has been ACCEPTED for publication in EOS, Transactions of the AGU:
________ RBSPb EOS Meeting Report (IN PRESS)
Meeting Notes
If you have notes from the meeting you'd like to post here (either transcribed or scanned), please email them to Jerry Goldstein.
________
Jerry Goldstein's Notes (Word doc)
________
Photos of the Flip Chart (Word doc)
________
Survey (from last session), PDF
Note that the Flip Chart document is only partially annotated, and we would appreciate help annotating all of the notes pages. If you have any annotation to add, please email J.G.
Action List
Maintained here at the RBSPb site, this will be a "living" list of data sources and analysis tools that the community will find useful. If you have something to add to the list, please email Jerry Goldstein.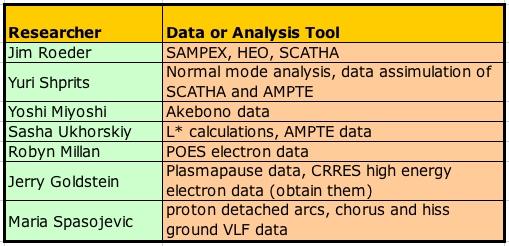 RBSPb T-Shirt
Interested in buying an RBSPb T-Shirt? You can purchase one through online vendor sites here. (Note that the link above, and the online vendor sites, are not directly affiliated with the meeting.)